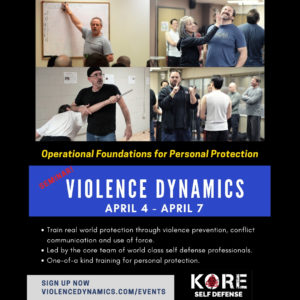 We are excited to host the Violence Dynamics Self-Defense Training Conference in April. With instructors like Terry Trahan, Rory Miller, Kasey Keckeisen, and Randy King – it will be a house filled with talent, wisdom and integrity. Rare combinations in the martial world.
It also an opportunity to gain invaluable skills across the board. Deep explorations of de-escalation skills, high end use of force, ethical and legal decision-making, threat assessment, and … well the class list is robust to say the least.
Here are a couple of links to learn more about it and get signed up. We have a local logistics person who is helping to coordinate for people who are traveling in and want to share the costs of hotel etc. Don't hesitate to reach out!