We are honored and excited to be represented in Captive Audience's newly published book: 365 Days of Survival. The authors and principle players in the company are truly some of the most skilled tactical and operational professionals in their business and we are super honored they choose Kore to maintain their hand-to-hand skills.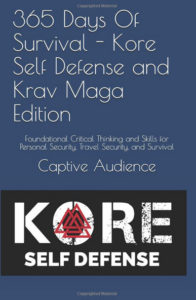 Check out their book on Amazon: https://www.amazon.com/365-Days-Survival-Foundational-Critical/dp/179318271X/ref=sr_1_3?ie=UTF8&qid=1547056624&sr=8-3&keywords=Kore+self+defense
And then learn more about them on their website: Captive Audience Prevention, Training & Recovery Team
It's still January, by the way. Take us up on the two big New Year Deals we have going on!
see you on the mat,
Tammy